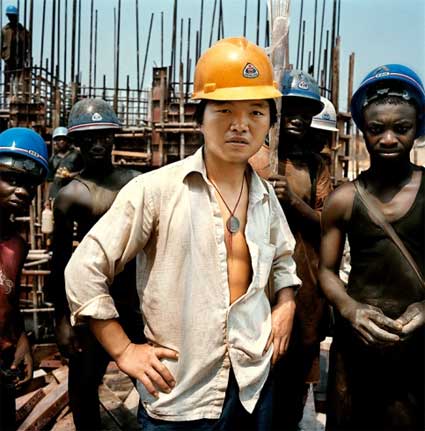 The Chinese have learned a very bad thing from Nigerians and that's creeping into every available space on the planet, and asserting themselves there. They are everywhere, and completely eliminated Nigerian dominance as the diversity skin of choice around the world.
However, Wherever they congregate, they breathe, eat and sleep Chinese. APC could fulfill one campaign promise and you still cannot catch a group of Chinese conversing in English. It doesn't matter if they're really Chinese or Korean (for some reason, Japanese are scarce), they seem to have this pidgin Chinko language they all understand, and speak. And when, in class for example, they are forced to speak English, there is a deliberate effort to let you know they would rather be speaking to you in another language, what with their laboured English. Yet, they're all smart.
Which is why e dey vex me when I meet a Nigerian and he/she goes all Kemi Adeosun Britico on me. I'm like, bros calm down, na me and you follow dey shout up NEPA the other day. Wetin be this one nau? Whossai! I could as well be trying to convince SARS that that young man with a laptop is not a yahoo boy.
The men are easier sef. With enough goading, they come to their senses and soon the signature boisterous Nigerian camaraderie sets in among a group of Nigerian men. The women though, ha! Those ones mutated to Europeans the moment they passed the Murtala Muhammad Airport Immigration scanner. Those ones are more British than Queen Eliza. Stay with them long enough and you begin to believe intelligence is probably correlated positively with the ability to chirp the nasal version of English in these parts, despite all the Chinese and Indian evidence to the contrary.
This is a problem.
I think, to a large extent, people who develop their countries have learned to take what is good from a foreign culture and jettison all those that threaten to make them lose their identities. There is this consciousness among the Chinese, the Indians, the Americans and of course the British, etc. A Mexican I met here is unapologetically Mexican both in word and deed. So was a white South African.
All Nigerian women I met here are unapologetically Scottish, including the one that came in just a day before I did (wtf!). What's going on?
I don't blame them too much sha. Shey Chinese dey teach their children in Chinese, while here we dey carry English for head yet we cannot go and school in the UK without them opening office ontop our heads in the name of English proficiency test. Na we dey do ourselves sha.
When do we start inventing our own homegrown philosophical background for development? That question can only be attempted by someone who brings more than just body language to the table.
google_ad_client = "ca-pub-7823325978435516";
google_ad_host = "pub-1556223355139109";
google_ad_slot = "7893254985";
google_ad_width = 300;
google_ad_height = 250;