How Gov.Fayose rescued Apostle Johnson Suleiman from DSS ambush (Details)
Governor Ayodele Fayose has foiled an attempt by the Department of State Service (DSS) to arrest popular cleric, Apostle Johnson Suleiman in Ado-Ekiti. According
to reports, the man of God is in the state for a two-day crusade, not
knowing the DSS had perfected plans to arrest him.
In
the early hours of Wednesday, January 25, operatives of the DSS were
said to have laid siege on Suleiman's hotel, waiting for him to arrive
from the day's programme which was attended by Fayose.
Upon
arrival, the agents reportedly moved in and attempted to forcefully
take him from his hotel room in the Adebayo area of Ado-Ekiti, but were
resisted by the hotel security.
While the security
men stalled his arrest, the Pastor hurriedly called Fayose on the phone
and the Governor immediately led his security team to the scene.
Fayose
was said to have, in strong terms, questioned the mission of the DSS
operatives and shortly after took the man of God with him to safety.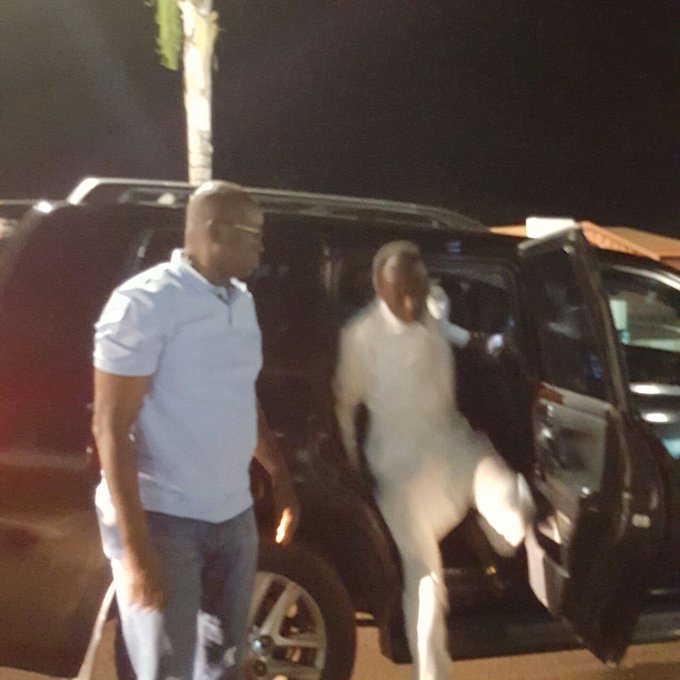 Recounting the ordeal, the cleric said: "I
came to Ado Ekiti for a crusade. But I had a premonition that I was
being trailed after I preached that Christians should retaliate any
attack or killings by the Fulani herdsmen. These Fulani headmen had
turned many Christians to orphans and widowers but the time has come to
protect ourselves.
"I received several
calls from hidden numbers trying to locate where I am and I had warned
my security not to allow any Fulani man to come near me. So when the men
of DSS came in the middle of the night, I knew their mission and I had
to call the Governor because if they arrest me, they will set this
country on fire."
Reacting to the incident,
Fayose expressed disappointment at the DSS conduct, saying the pastor
should have been invited not arrested like a thief.
"If
they have any issue with him instead of arresting him in the dead of
the night after a powerful and spirit-filled crusade in my State," the Governor was quoted as saying.
"I
personally attended his crusade and I think it is wrong for a man of
God who is armless that could be invited if they have any issue against
him. Are Christians and Moslems under different dispensation of the rule
of law? . That's why I went there to rescue him. Let them kill two of
us together. But when they saw my vehicles and the crowd, they fled.
"But
we have information that instructions came from DSS in Abuja that the
Pastor should be arrested. We are not in a fascist state, Federal
Government must learn to respect the rights of Nigerians and freedom of
expression," Fayose added.
Suleiman
had in one of his recent sermons called on his church members to kill
any Fulani herdsman they sight around them – he was reacting to the
recent massacre of Christians in northern Nigeria.
Many
Nigerians have, however, condemned the message which is said to be
everything against what Jesus stands for while some described it as a
call to violence.
Advertisement
L. A Prisoners Infect Themselves With Coronavirus To Get Early Release (VIDEO)
A group of silly L.A area prison inmates were very eager to contract the dreaded coronavirus .
They attempted this because they believed that would trigger their ticket out of prison.
According to the L.A. County Sheriff Alex Villanueva who made the startling revelation Monday, said about twenty-four (24) inmates at the Pitchess Detention Center in Castaic attempted (and somewhat succeeded, apparently) to infect themselves way back in mid-April 2020.
The Sheriff revealed that their department saw an increase in spike in confirmed cases out of nowhere.
He said that when they investigated, they found a high number of inmates living in one block of the prison appeared to be deliberately trying to infect each other with COVID-19 any way they could from behind bars.
When Alex Villanueva played the surveillance footages he and his team combed through carefully , and it showed several inmates hanging out in a common area and passing around what Alex described as a hot cup of water, as well as one face mask they'd each put on all in hopes of getting sympathy from a judge to spring them from the facility and let them go home.
But it turns out, their little ploy worked but, only halfway.
Villanueva reported that 21 of the inmates (out of 50 in the block) caught the 'Coronavirus.
"What they won't catch is a break" said the Sheriff.
Watch the Video HERE
Advertisement
COVID-19 LOCKDOWN: 12 Year Old Albino Girl Suffers Eye Problems After Hawking Veggies In Abuja (PHOTOS)
A very sad Facebook post greeted Nigerians from Abuja showing a 12 year old Albino Girl Grace, who started developing sight problems after Hawking Veggies under the scorching sun in Abuja.
The Facebook post stated that the little girl was asked to hawk the veggies by her aunt whom she lives with.
Below are the Screenshots of the Facebook post:
This sad news has sparked an outrage by well meaning individuals who spoke against such cruelty and insensitivity of the said girl's aunt.
what do you think of this? Drop your comments below.
Advertisement
"Buhari is Made In London" – Reno Omokri Blasts Presidency On Nigerian Made Products
The Buhari administration has been known for enforcing the Nigerian people to patronize Nigerian made goods though without much strategy to make life easier while this transition to economic growth is enforced.
The Buhari administration has been known for enforcing the Nigerian people to patronize Nigerian made goods though without much strategy to make life easier while this transition to economic growth is enforced. Many Nigerians have tagged it a harsh move that is insensitive and inhumane but moreso, Reno Omokri has singled out signals of hypocrisy in the President of Nigeria by outlining certain traits of family moves of the President that shows that he(Buhari) as the No.1 citizen has no regards for anything made in Nigeria but yet wants other Nigerians to embrace Nigerian made goods.
Reno Omokri 's tweet reads:
His kids schooled in England. His wife just returned from a 3 month UK stay. His daughter gave birth to his grandchild in Spain (made in Spain), yet
@MBuhari
, who is London, wants us to patronise made in Nigeria!
Advertisement